Vin Gopal wins LD11!
2017 - League of Humane Voters of New Jersey Endorsements
November 7, 2017 Election Day
We're all in for Vin Gopal for State Senate in District 11
The following towns are in District 11: Allenhurst, Asbury Park, Colts Neck, Deal, Eatontown, Freehold, Interlaken, Loch Arbour, Neptune, Ocean Township (Monmouth), Red Bank, Shrewsbury, Tinton Falls, Long Branch and West Long Branch.
Vin Gopal Supports
S2750/A4407: Legislation that bans the manufacture, sale, possession, importation, transportation, or use of certain traps. In 2015, the Fish and Game Council "regulated" types of spring-loaded, steel-jawed leghold traps banned by the Legislature in 1984.
S2702/A4285 "Pedals' Law": prohibits hunting and establishes non-lethal control program for black bear for five years; prohibits certain actions that result in feeding of bears and requires use of bear-resistant containers; dumpsters, and food boxes in bear habitat.

A2178 "Nosey's Law": prohibits use of exotic species in traveling animal acts.

A2410/A3899: This bill would prohibit a person from performing, or causing to be performing a declawing procedure by any means on a cat or other animal, unless the procedure is deemed necessary for a therapeutic purpose by a licensed veterinarian.

S3019: Establishes additional requirements for operation and oversight of animal shelters, pounds, kennels operating as shelters or pounds, and veterinary holding facilities. Shelters and pounds should be caring, safe havens for animals in need with a life-affirming mission reflecting the humane values of the State's citizens, residents, and taxpayers.

S2288/A908 "Pet Groomers Licensing Act" designated as "Bijou's Law": Long, overdue legislation needed to license individuals who groom animals. This will help prevent injuries and deaths to pets as a result of grooming.

S3041: Revises "Pet Purchase Protection Act" to establish new requirements for pet dealers and pet shops. The bill prohibits any pet dealer from selling or purchasing for resale any cat or dog bred, raised, transferred, or brokered by any person, including the pet dealer's own cats or dogs, if the person:
♦ is not in compliance with Department of Health
♦ is not in possession of a current federal license issued by the USDA
♦ is not in possession of all other licenses required for a breeder
♦ has been cited on one or more USDA inspection reports
♦ directly or indirectly obtained the cat or dog from a breeder, broker, or other person, firm, corporation, or organization cited for these violations or is not in compliance with the other requirements
Vin Gopal Opposes
S761/A4160: This bill essentially makes it even worse for deer in New Jersey, as it extends poaching practices long deemed unethical, unsporting and unsafe (killing animals directly over bait, jacklighting, or stunning deer with strong lights, and shooting from vehicles), on forest stewardship lands. The venison donation program is cover.

S761/A4160: Removes statutory limitation on number of permits that may be issued by Division of Fish and Wildlife to kill beavers. Currently, the maximum is 200 (8 beavers per permit).

A1505: Permits commercial logging of our state forests, primarily for hunted species and timber. As noted by the 40 scientists who signed a letter against the original version of the legislation, logging will "grow the deer herd even more." Logging isn't about the golden warbler. It's part of an effort to get commercial logging of state forests for an industry/conservation coalition.


Vin Gopal's Opponent Beck supported:
Sunday hunting for bow hunters.
In 2008, she voted for Sunday hunting with bows and arrows. The bill became law in 2009.

Reducing safety buffer to 150 feet.
In 2010, Senator Beck voted to release the bill in the committee that allowed the legislature to reduce the safety buffer of 450 feet to 150 feet for bow hunters. She voted against it on the Senate floor, but the damage was done by releasing it from the committee. This bill became law.

Logging New Jersey Forests
In 2012, Senator Beck voted to log our state forests under the pretense of creating a forest stewardship program. She voted the bill out of committee, then voted yes on the Senate floor. The bill was vetoed by Governor Christie because he was opposed the bill's naming of the a third party to manage New Jersey's forests. to a third party, Forest Stewardship Council

Beck votes against animals on average about 56% of the time.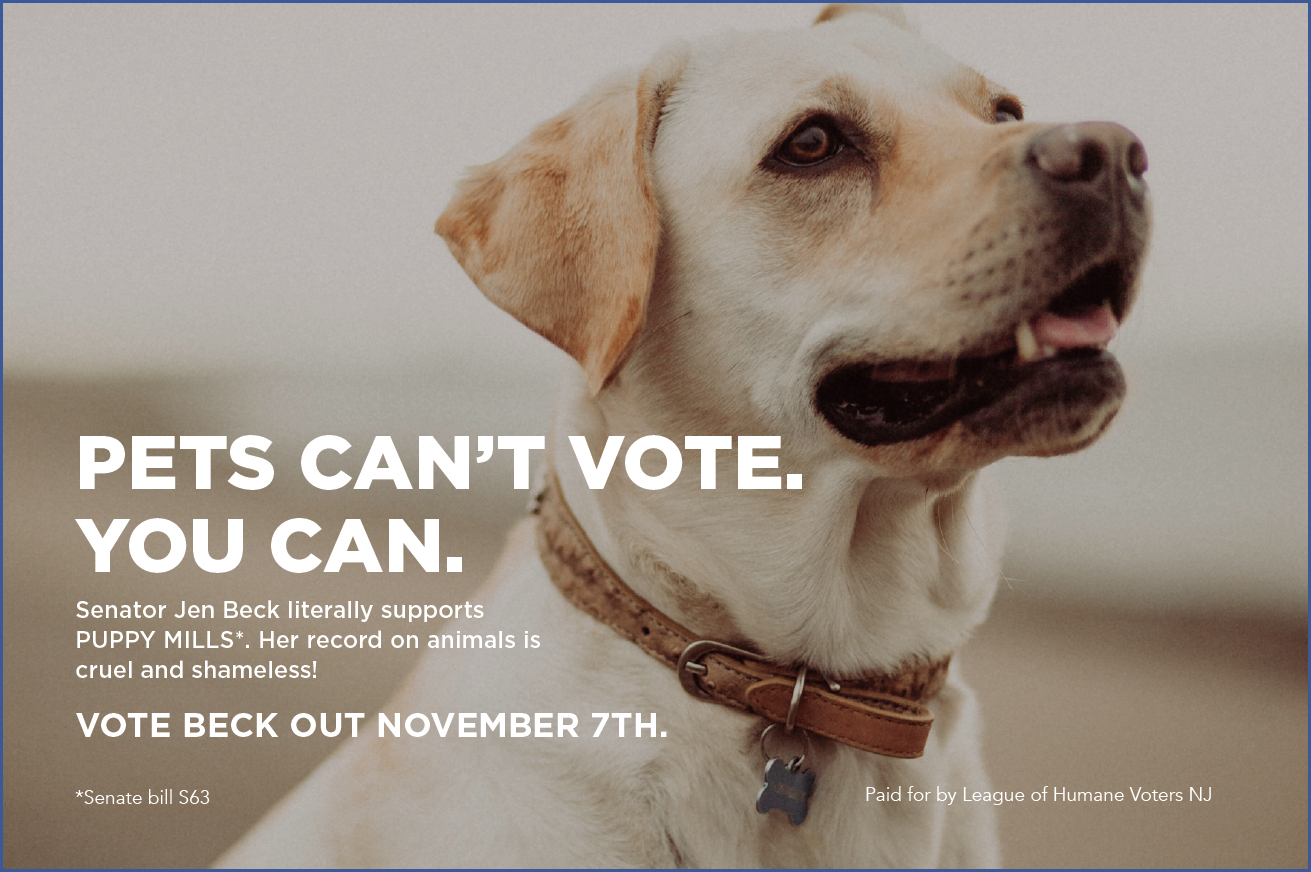 VOTE FOR VIN GOPAL ON NOVEMBER 7, 2017